Bourton on the Water Day Nursery is managed by friendly, experienced professionals who ensure a high standard of physical, emotional, social and intellectual care is provided. Our staff are chosen not only for their qualification and experience but for their love of children and their ability to provide high quality care and dedication to your child to the standard you would expect as a parent.
We are proud of our experienced staff and invest in continued professional development to ensure that we are able to provide a modern and up to date service for the children.
A Disclosure and barring check (DBS) is carried out on all new members of staff, volunteers and students who join us Staff receive an induction programme of training as they start their career with us. Their induction covers subjects such as Pediatric First Aid, Basic Food Hygiene, Health and Safety, Roles and responsibilities.
Our team aims to build close relationships with each child to ensure their individual needs are met and to work in partnership with parents/carers to ensure their child feels happy and secure in nursery. We believe in quality, consistency and continuity and to this end we operate a key person system which ensures that each child has a main carer with whom parents can relate to and who will be the first point of contact for any queries, requests or comments.
FAMLY
We use Famly to keep parents connected with their children's learning journal, online. You will be set up with this when your child is enrolled – any problems just contact the office. Famly is easy to use and helps educators and parents to record, track and celebrate children's progress in early years education.
Nurseries, pre-schools, and reception classes are fun-packed and busy. From messy play and first steps to learning phonics and new games, there's so much for children to do, learn and take in. Famly enhances this special time, helping teachers and practitioners to capture children's experiences as well as monitor development and learning.
This unique journal is shared online with parents, who can see special moments and view their child's progress. Text, images, and videos can be easily uploaded via PC, tablet or our mobile app – anywhere there's an online connection. Every entry helps to create a complete story of a child's time at nursery, pre-school, or school.
Famly covers the Early Years Foundation Stage, KS1 and KS2 groups and is designed to simplify and improve recording within these curricula. Information can be filtered and displayed in different ways, and assessments and statements can be made for each entry.

Policies and Procedures
We have many policies and procedures in place at the nursery, to protect the children and to help ensure we maintain a high standard of care at all times.
The policies and procedures govern the way we operate in the nursery, and will be openly published for parents and OFSTED to read and refer to at any time. The whole staff team are involved in reviewing and monitoring the policies and procedures on a regular basis, so we can implement any changes or add to them when require.
The policy and procedures file is located in the front hall if you require any further information please ask the Nursery Manager.
Opening Hours
We are open all year with the exception of Bank Holidays. We offer sessional or full day care between the hours of 8am-6pm Monday to Friday. We also offer an early start at 7.30am for those that require this, there is a small additional charge for this.
Parents should not feel under pressure to get to the nursery for 8.00am. Arrival/departure times within the session times are flexible, however, we do ask that you do not drop your child prior to the starting time of your session and that you are prompt in collecting your child at the end of their session.
Please ensure that if you wish to talk to a member of staff about anything to allow extra time for this as the staff have other evening commitments and many have children who they need to get home too.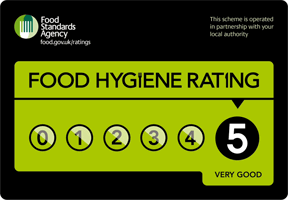 Food Hygiene
We currently hold a 5 star rating for our food hygiene.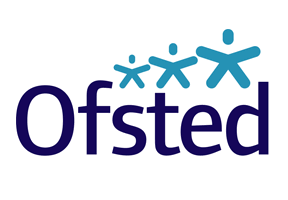 Ofsted Report